HotelDesk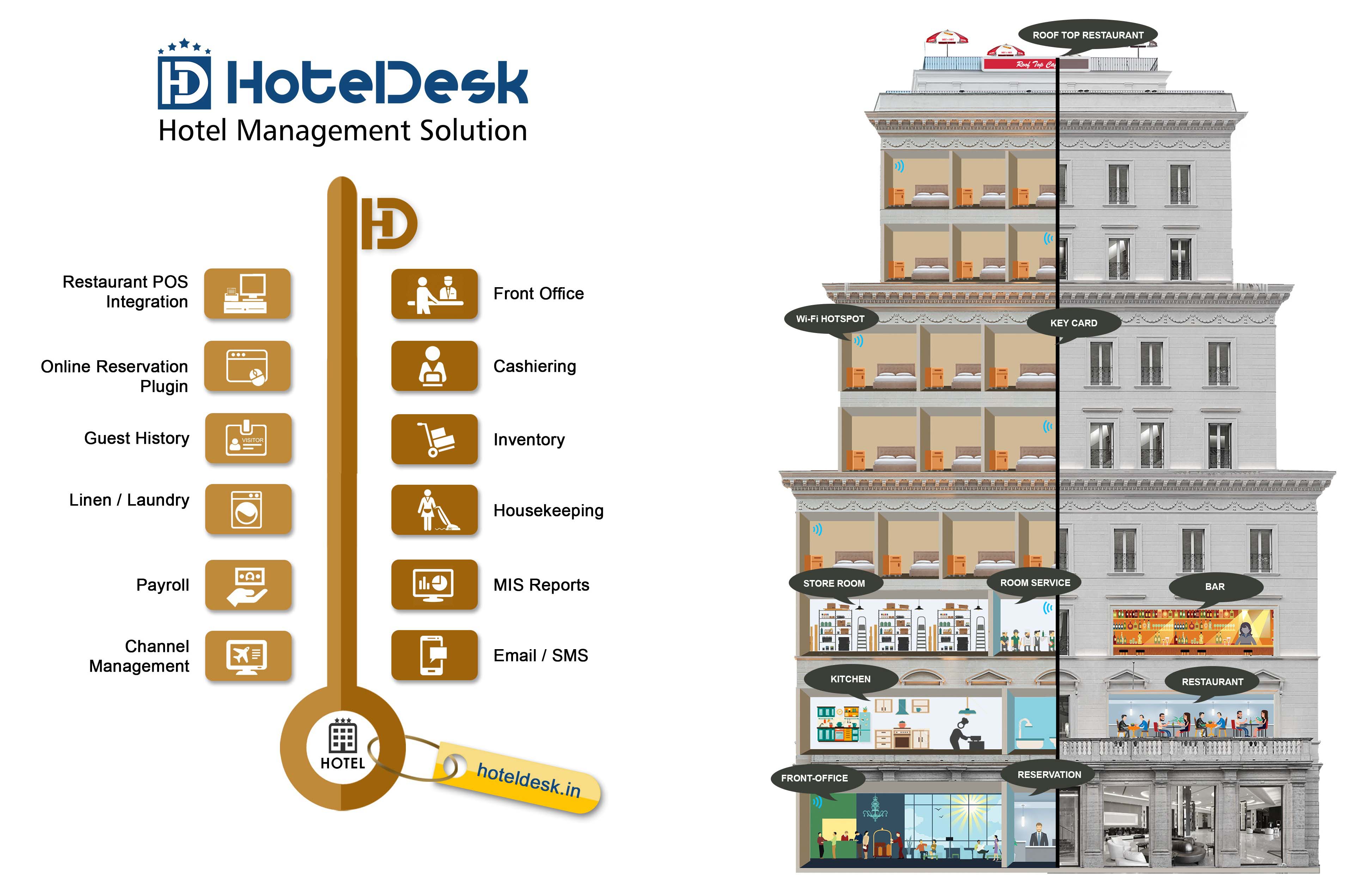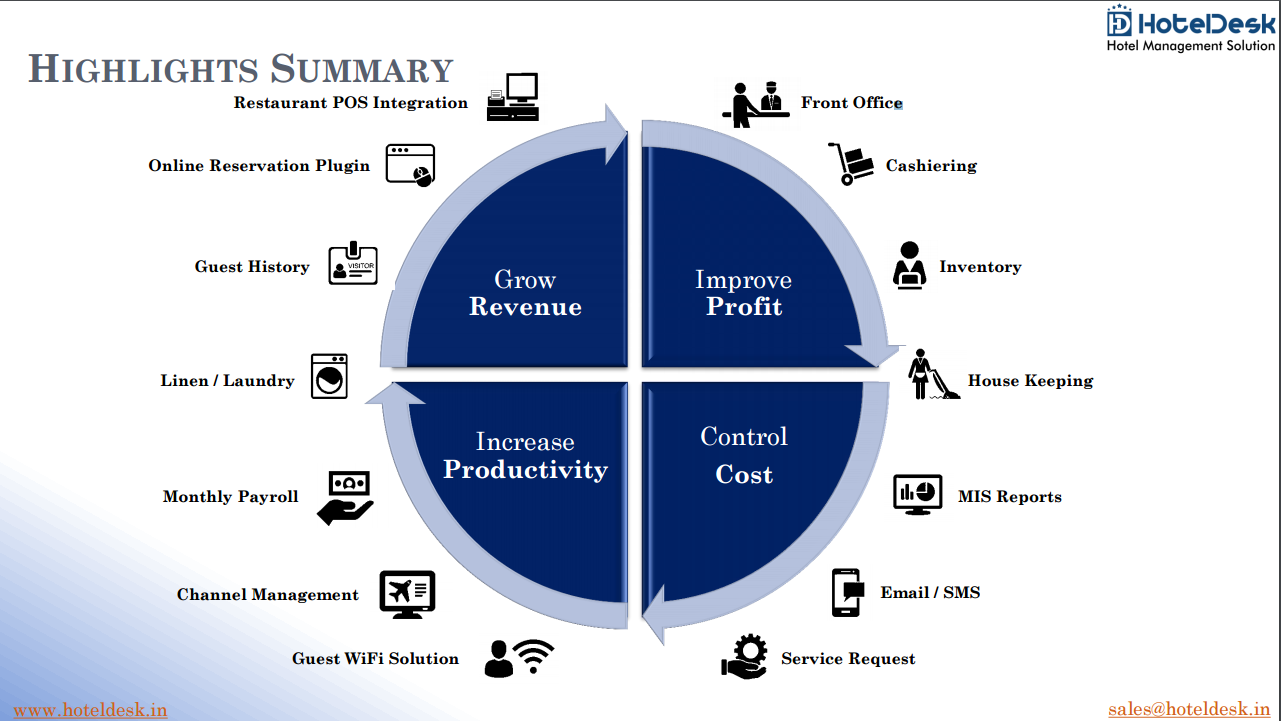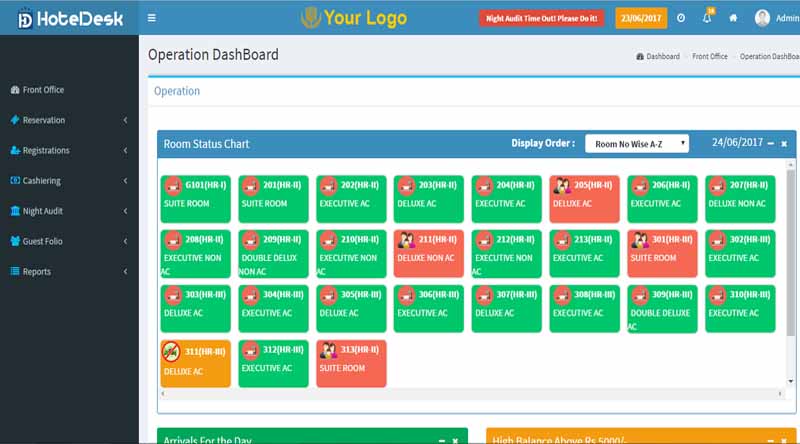 Product Description
Hotel Desk Product is a Hotel Management System that takes care of all your day to day activities. We have covered all the business operations into product work flow. Hotel desk product is composed of multiple modules like Reservation, Check-in, Guest Folio, Night audit, Settlement, Customer Management, MIS reports. You will love the way of our HotelDesk management system works,it integrates all critical operations of your hotel on one platform.Our web based hotel management system is simple and intuitive to use. One stop solution for taking care of your hotel business.
Live Demo
---
Product Features

Front Office
The Front Office can manage the Check-In, Check-Out and reservation

Cashiering
Describe the role of a cashier in a hotel and Identify various modes of payment made for bill settlement

Dynamic Pricing
Revolution in automated hotel revenue management, Our system solves the problem of dynamic pricing control

Inventory Management
Being part of back end processes and hidden behind the glitz and glamor of the hospitality industry

House Keeping
The management of duties and chores involved in the running of a household, such as cleaning, Scheduling, laundry and bill pay

MIS Reports
An MIS report is a tool managers use to evaluate business processes and operations such as Daily Sale, Managering Report, Flash Reports etc.

Email / SMS
Text (or SMS) messages remain one of the most effective forms of marketing communications, alongside email

Online Booking Engine
Hotel Desk offers an online reservation service for those hotels aim to boost guest's booking revenue by offering a customized booking engine

Integrate with Restaurant/POS
Restaurant Manager provides comprehensive and flexible POS solutions that can include integrated with Hotel Desk

Guest History
A record maintained for each guest who has stayed at the hotel with a separate entry for each visit and details of pertinent preferences
HR / Payroll
Our HR / Payroll Module helps you to record employee profile, attendance and calculate the pay and deductions

Linen / Laundry
The hotel laundry cycle consist of Collecting soiled linen, Transporting them to laundry, sorting, washing and delivery by room service with Guest Billing

Channel Management(OTAs)
Channel management is the process of managing online distribution channels in order to sell hotel inventory to various agents across the globe

Service Request
The agent then relays the request to the appropriate service centre or hotel department for processing

Multi-Other Services
An upscale full-service hotel facility offers luxury amenities, full service accommodations, an on-site Spa,Gym, Swimming pool and so on.

Reminders
Reminders are will help for remain guest request such taxi, Food Service, Room Cleaning Service.

Hotspot Wi-Fi Integration
Guest Wi Fi nowadays is not just a value added service that a hotel has to offer to guests; but it's a necessity

Owner Insight App
The Owner get insight into real-time room inventory,Check-In, Check-Out, Sales and reports

Shift Management
Scheduling staff for multiple positions across different shifts each night is a daunting task for managers and business owners in the hospitality industry

Key Card Integration
Our HotelDesk HMS will enhance the check in process with key card integration for your hotel rooms